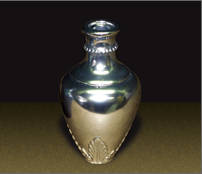 G.J. Nikolas & Co., Inc.
2800 Washington Blvd.
Bellwood, Illinois 60104

Phone: 708-544-0320
Fax: 708-544-9722

E-mail: info@finish1.com

QuickSilver is a new coating product line that is as easy to use as 1-2-3 and is a brilliant plating alternative. Its appearance will simulate a chrome or polished silver finish. It is also available in a variety of metallic colors and in many vehicle types. It can be applied to any substrate including metal, wood, plastic, and glass. It will give you a near mirror type finish.

QuickSilver is very versatile and can be used on small runs, large items, and does not require special equipment. Just apply it with conventional spray equipment as you would any liquid coating. It can be air-dried or baked depending on vehicle type selected.

QuickSilver is the ideal choice for many applications in every industry, including: hardware, automotive, lighting, trophies, jewelry, fishing lures, statuary, picture frames, cosmetic containers, architectural metal maintenance, and more. To find out more about this exciting product contact our customer service department at 800-finish1.